The Dobie Cabins – Design Stage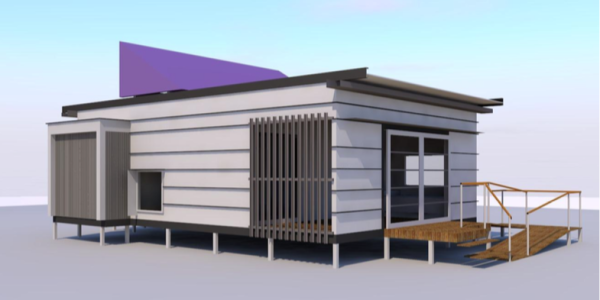 In designing 'THE DOBIE CABINS' series I see these houses as suiting all ages and stages of lives of people who want living to become a beautiful experience.
The usual approach to affordable housing is to keep things on a large scale but strip the soul out by making it more and more mediocre.
By keeping to a small footprint it's easier define environments that become 'favourite places'. We've virtually re-invented the old sleep-out where the daybed will provide a casual place to retreat.
This plan is one of the future houses which we are developing from the experience of constructing our first cabin.
These are places that lift the spirit, and the houses are designed to appeal to the soul by providing uplifting spaces.
For People with Disabilities, the provision for good access and real comfort and practical living spaces is a well  established in everything we do.
This house started off as a standard design, but is being taken up by a client for a specific granny-flat design with fully accessible living. She is delighted with what we did, and she'll be the proud owner of the first Dobie Cabin. The client's daughter and her husband bought our Lake Weyba House which you'll find on our website. The standard design is being modified to blend into the site and complement the beautiful Lake Weyba house.